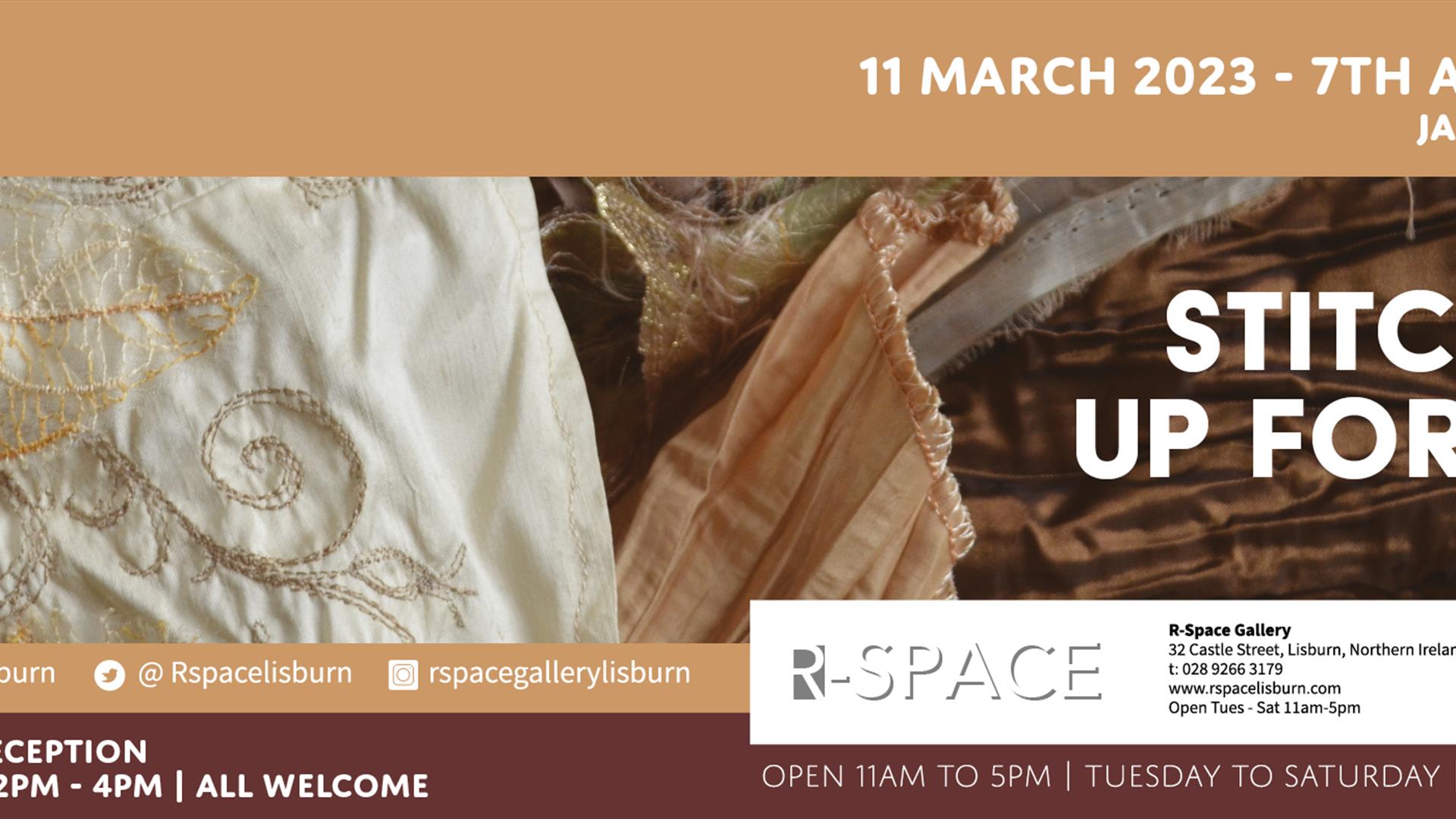 About
Stitch Me Up For Life includes early works from her fashion and textile background with supporting drawings. The exhibition will display a variety of textile landscape works that demonstrate a wide range of textile art processes. The gallery will also celebrate the costume work that she does for the volunteers at Castle Ward, the eighteen century National Trust property. This will include four ladies' outfits, including Robe a La Francaise. Janet will also spend a five day period of residency in the gallery.
Janet Hackney has said of her career:
'I have concentrated on establishing my own eclectic style in art and textiles, using colours, found fabrics, linen, appliqués, felt, hand and digitised embroidery techniques.
(Please see R-Space Website and Facebook for further details)
About Janet Hackney:
Janet Hackney completed a BA Hons in Fashion and Textiles at Ravenbourne College of Art, Greenwich, after a Foundation year at The Ulster College of Art and Design. With a distinction in her PGCE teaching practice from Stockwell College of Education, Bromley, she has taught art, needlework and textiles in schools in England, Malawi and Northern Ireland and in the 1980s Janet had an arts and textile stall in Covent Garden Market and made quilts for Liberty, London. An active member of the N.I. Embroidery Guild since 2000, she has exhibited with them throughout Northern Ireland. In 2017 at the invite of the New Zealand Embroiderers' Guild she gave several talks and workshops on her textile work and techniques. Her first solo exhibition was held in Newcastle Library, Co Down in 2015. During lockdown she cut and sewed scrubs from donated fabric for the NI Scrub Group (East Down: Castlewellan and Newcastle areas.) She stitched together embroided squares into a special NI Scrubs Tribute Celebration Quilt exhibited in the Newcastle Library and in the Linenhall Library's 'Extraordinary Women' Exhibition 2020/21.
ABOUT R-SPACE GALLERY:
R Space is a visual arts and crafts space, presenting and commissioning a programme of exhibitions and arts activity based in The Linen Rooms in the heart of the City of Lisburn, Northern Ireland.
R Space's ambition is to increase access, understanding and enjoyment of contemporary visual arts, crafts, design, and other related arts activities.
Supported by ACNI National Lottery.
Name of contacts: Zara Lyness 028 92 663 179
Email: rspace@linenroomslisburn.com Website: www.rspacelisburn.com
Facilities
Parking & Transport
Off site parking
Station nearby
Taxi rank nearby
Provider Preferences