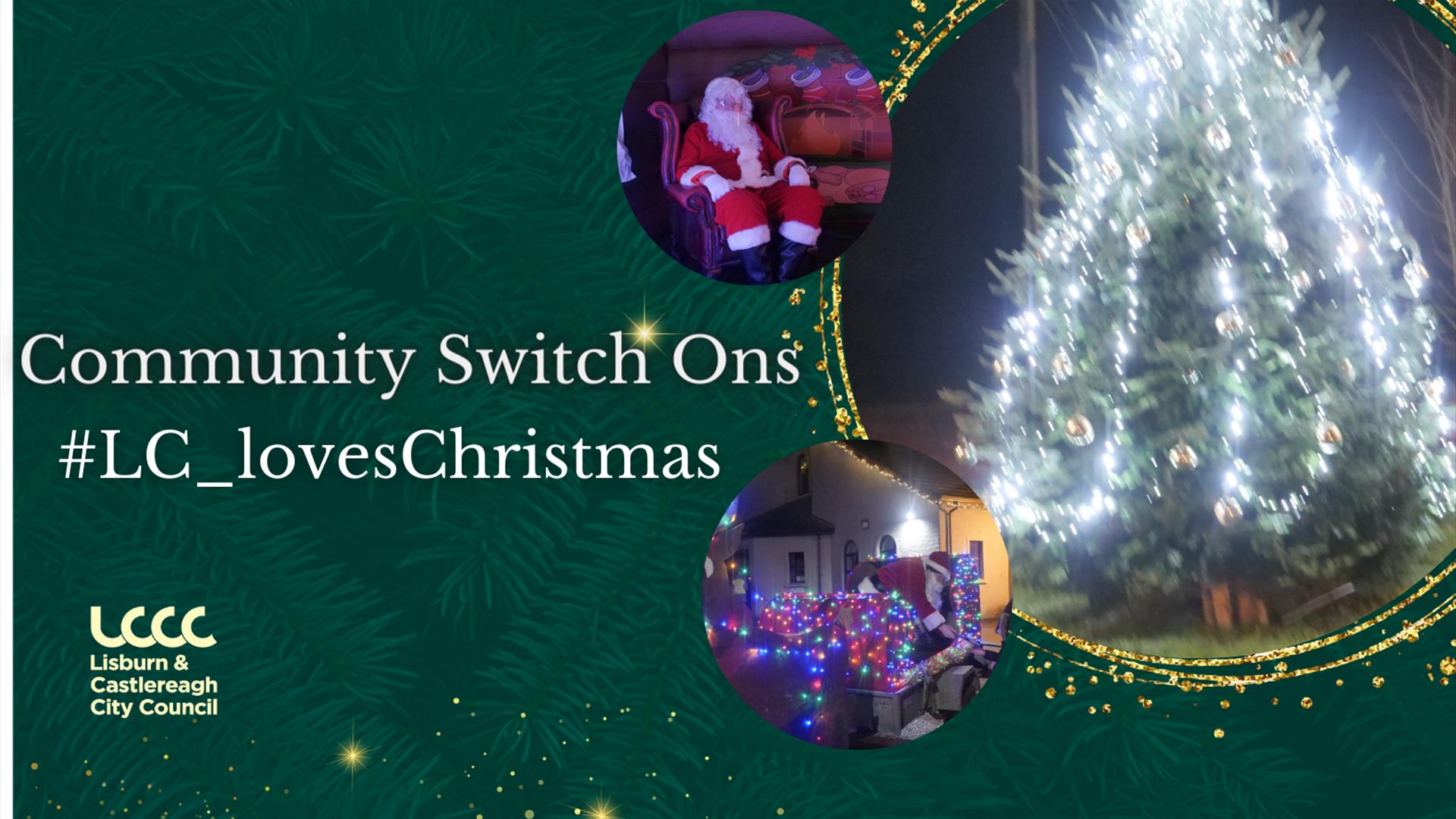 About
Lisburn & Castlereagh City Council are pleased to offer grant funding to local community groups wishing to celebrate the festive season in their community. Through our Community Services team this year we are supporting a variety of event styles.
Each community group has made the decision to either host their switch on event in person or to mark the festivities in an appropriate manner for their community.
The council encourages all local groups to share their festive photos and videos with us.
#LC_lovesChristmas
Community Group Date & Time of Event Location Switch on event
Ballinderry Residents Association 24th November at 6.30pm Lower Ballinderry No
Stoneyford Community and Youth Association 25th November at 6.00pm Stoneyford Village Play Park Yes
Drumlough Community Association 25th November at 7.00pm Drumlough Orange Hall Yes
St. John's Parish, Moira 29th November at 7.00pm Main Street, Moira Yes
Seymourhill & Conway Residents Association 1st December at 6.00pm Rowan Drive Yes
Dundrod Sports For All 1st December at 7.00pm Dundrod Church Car Park Yes
Carryduff Regeneration Forum 2nd December at 10.30am Lough Moss Community Hub No - Festive Family Trail
Dromara Community Group 2nd December at 5.45pm The Square Dromara & Lagan Park Centre Yes
Moneyreagh & District Community Association 2nd December at 6.00pm Moneyreagh Community Centre Yes
Anahilt & Magheraconluce Community Assoc. 2nd December at 6.45pm Anahilt Crossroads Yes
Hillsborough & District Committee 3rd December at 7.00pm Hillsborough Main Street Yes
Derriaghy Village Community Association 5th December at 6.30pm Muga & Community Garden - Milltown Yes
Drumbeg Community Association 5th December at 7.00pm Drumbeg Orange Hall Yes
Halftown Residents Association 6th December at 6.00pm Lower Maze Hall No
Glenavy Community Partnership 6th December at 7.00pm Glenaiden Centre Yes
Aghalee Village Hall 7th December at 7.00pm Aghalee Village Hall No
Helping Hands Autism Support Group 7th December at 7.30pm Moat Park, Dundonald Yes
Ravarnet Community Network 8th December at 6.30pm Ravarnet Village Crossroads Yes
Drumbo & District Community Association 8th December at 7.00pm Drumbo Presbyterian Church Yes
Maghaberry Community Association 8th December at 7.00pm Maghaberry Village Park Yes

Facilities
Accessibility
Activities accessible for visitors with disabilities