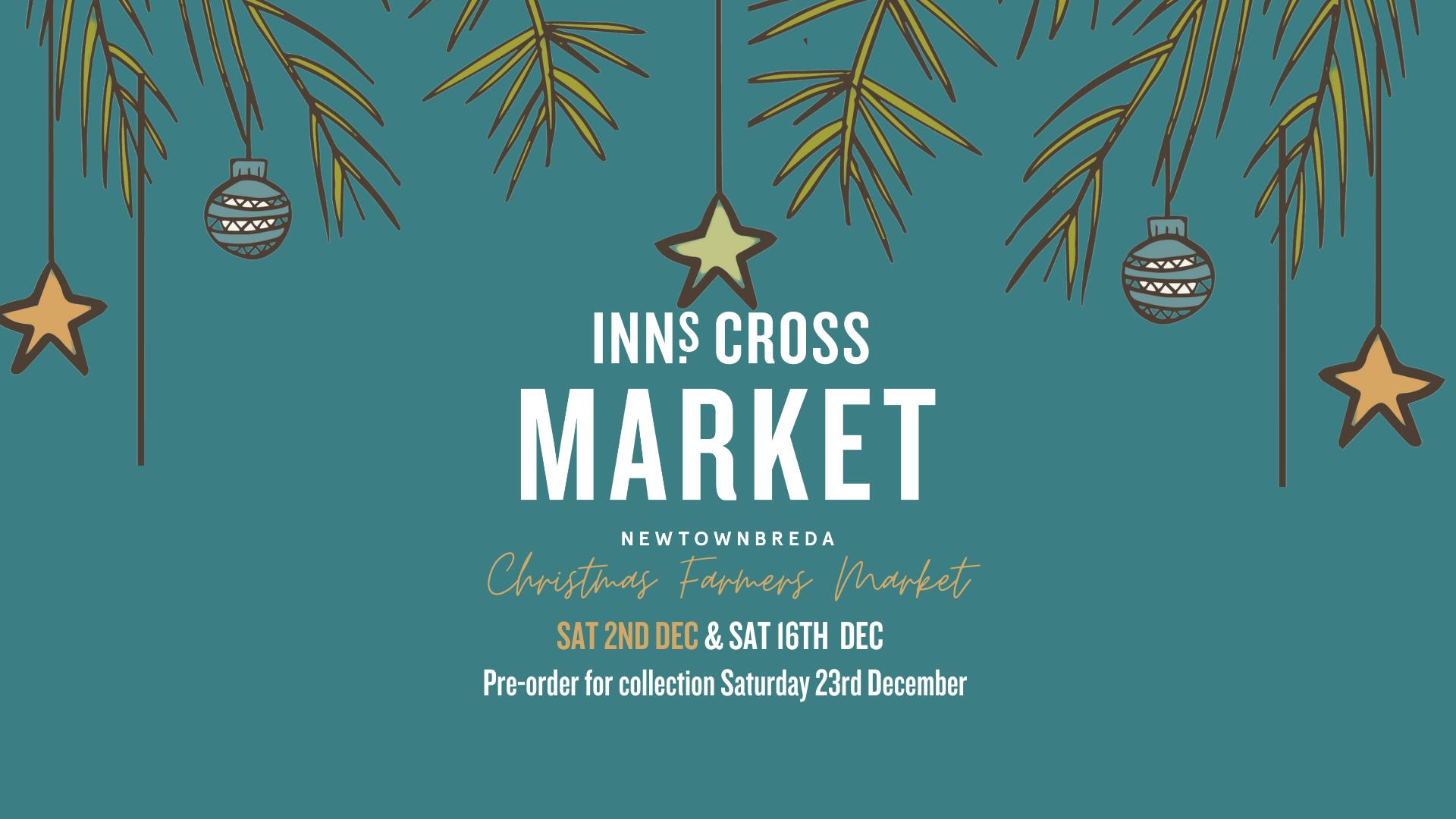 About
Inns Cross Market is a great place to start buying your food locally and getting to know local producers in a friendly environment.
We pride ourselves on being an authentic farmers' market supporting local primary and artisan producers. All our producers pride themselves on growing their own ingredients and / or sourcing from quality local producers.
We also have a few non-food vendors with natural skincare and craft who fit with our artisan and sustainable living ethos.
December markets are upon us and we have 2 for you this month as per our usual Christmas effort. We also have our 'Collection Only' hour on Sat 23rd Dec for turkeys, meats, fish and veg.
Come and join us for your normal shop and get ready for Christmas feasting and gifting. Grab a coffee and Saturday street food treat while you are there.
Who's trading on Saturday 2nd December 2023
Autumn Harvest
Bakari Bakery
Ballyriff Buffalo
Buchanan's Farm Shop
Castlscreen Farm
Chala Chai
Cherry Valley Farm
Co Down Honey
Deli Muru
Do Your Bit
Four Leaf Farm
Habanero Steve's
Indie Fude
Jack's Fudge
Ke Nako Biltong
Lagom Bakery
Mrs Rganics
Refuge Hot Chocolate
Rosie McNelill Cakes
Something Fishy NI
Streetza
Ten Watch Chocolates
The Bearded Candlemakers
The Curious Farmer
The Fancy Fox
The Gardener's Kitchen
The Local
The Oyster Catcher
NEXT MARKET DATES
Times for all markets 10am-2pm.
Saturday 16th December 2023

🎄 Pre-Order Collections:
23rd Dec between 9am-10am
Tables and chairs will be out for you to use for your enjoyment of hot drinks and food purchased from our vendors. Sanitizing spray and blue paper is provided beside the tables and chairs for your use.
Dogs on leads are welcomed with well-behaving owners🐕
Facilities
Establishment Features
Parking & Transport
Payment Methods
All major credit/debit cards accepted - Some vendors may not accept cash
Provider Preferences
Dogs Welcome Inside - must be on a lead
Free (parking charges may apply)
Village Location